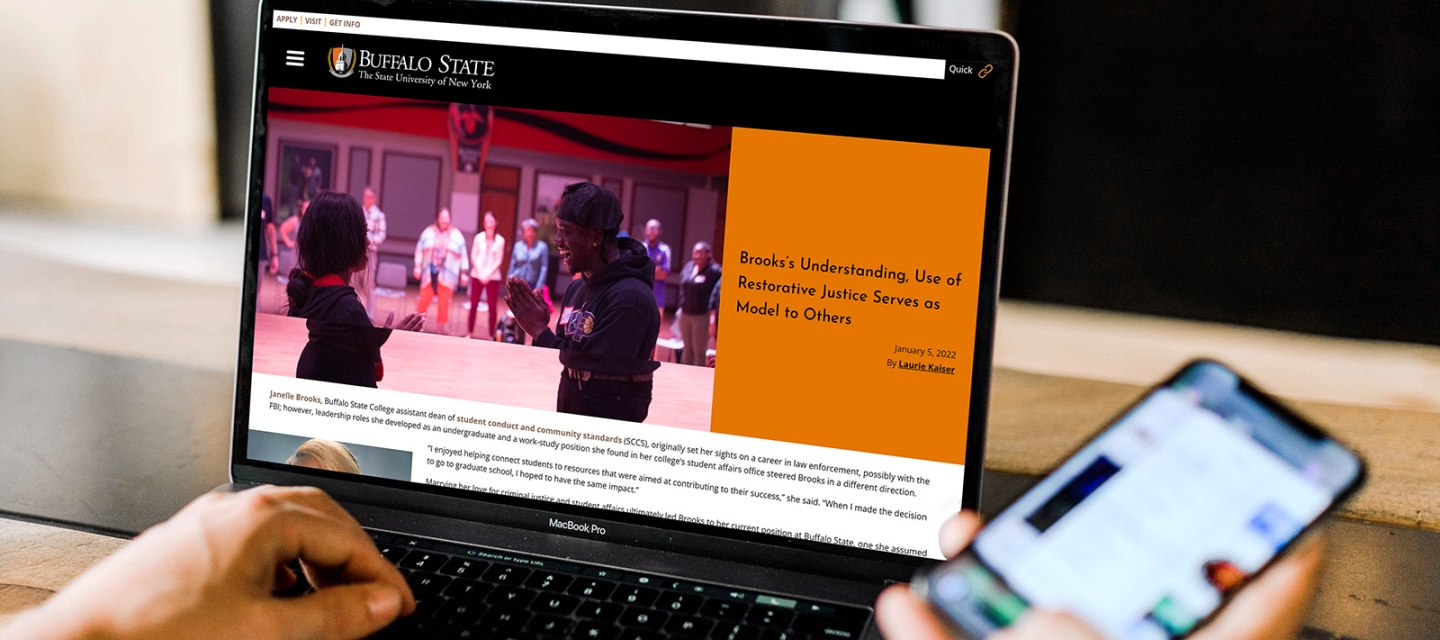 Media and Public Relations
Communications staff members provide direction for, plan, and implement internal and external communications initiatives to advance Buffalo State's mission, strategic plan, and brand.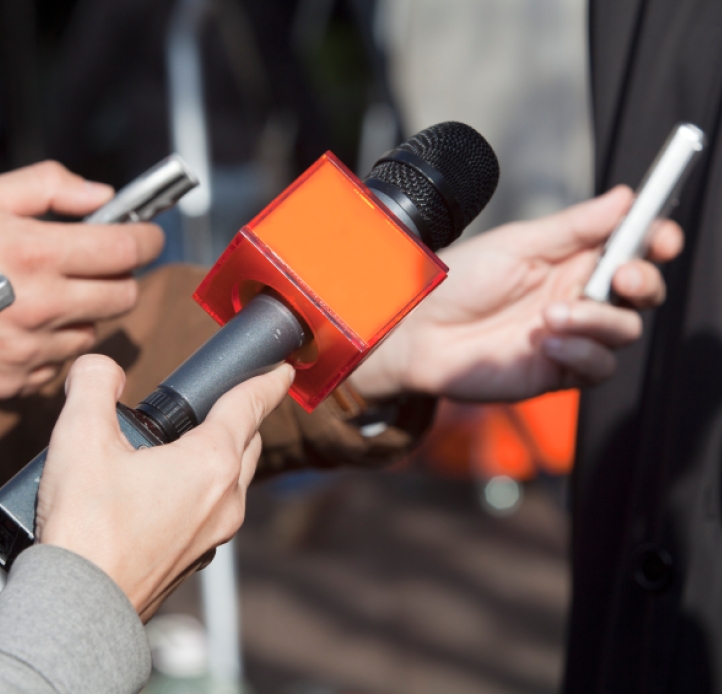 News Coverage
The communications staff is available to assist faculty and staff members in achieving news coverage for appropriate events, conferences, achievements, or grants through a variety of tactics such as press releases, media alerts, or informal pitches. 
Working with the Media
Faculty, staff, and departments are not permitted to issue press releases or contact the media on their own as representatives of Buffalo State. All such efforts must be coordinated through a communications staff member in Marketing and Communications. 
Exceptions:
Intercollegiate Athletics
Performing Arts Center at Rockwell Hall
Research Foundation at Buffalo State
Burchfield Penney Art Center at Buffalo State
Interview Requests
All interview requests for Buffalo State's administration, faculty, and staff must be coordinated through a member of the communications team.
In most cases, reporters will contact a communications staff member to identify a source and coordinate an interview. In advance of an interview, a member of the communications team will contact the requested faculty or staff member to discuss talking points and anticipated questions. 
If a reporter or journalist contacts you directly, please request that they contact a communications staff member to coordinate the interview before agreeing to an interview.
The Communications Team works with university administrators, faculty, and staff to prepare for interactions with the news media. Please contact a communications staff member if you would like to participate in a media training session.
Internal Communications
Buff State Alert is the university's emergency notification system. 
Buff State Alert is used to convey messages regarding serious safety issues, utility failures, or weather-related campuswide closures and cancellations. Buff State Alert is capable of sending text messages, recorded voice messages, and email messages to multiple addresses and phone numbers. In addition, the system is capable of immediately posting messages to the Buffalo State home page, social media sites, desktop notifications, and select digital message boards.
Students, faculty, and staff members who wish to enroll in Buff State Alert or modify their contact preferences (e.g., update a cell phone number) may do so by visiting the Buff State Alert website and logging in with their Buffalo State username and password. Anyone who does not have a Buffalo State username or password can still sign up for text messages only from Buff State Alert by texting the word "buffalostate" to 79516.
Personal data provided to Buff State Alert will not be used for any other purpose or for campus information broadcast. If you have questions about Buff State Alert, please call (716) 878-4357, email the IT Help Desk, or view How do I manage my Buff State Alert account?
The Daily Bulletin is Buffalo State's electronic newsletter containing official announcements, news and events, curricular items, faculty and staff achievements, and other information of importance to the campus community.
Providing a centralized source for campus information, the Daily Bulletin is designed primarily for faculty and staff members. Friends of the institution may also subscribe.
Subscribe to the Daily Bulletin
Buffalo State generally does not allow mass emailing to faculty and staff, and the distribution list for faculty and staff is not available for general use. The Daily Bulletin is the primary vehicle for mass communication to faculty and staff, such as emergency communications by the president, provost, and vice presidents or their designees to convey critical information to the campus, such as news about campus network or infrastructure issues, campus operations, or the death of a colleague. 
The Marketing and Communications Office works with the President's Office and vice presidents and their staff members in determining email communication.
The SUNY Buffalo State digital signage system consists of a network of 15 video displays that allow departments and offices to communicate with students, faculty, staff, and guests. Digital signage can be used to promote campus programs, services, and events. It is also an excellent venue to showcase samples of student work.
Policy
SUNY Buffalo State uses digital signage to increase the effectiveness of campus communications.
Policy guidelines are set to ensure that the content uploaded by authorized users to public display monitors follows best practices and certain protocols.
Accounts: Departments and offices with information to post on campus digital signage are encouraged to identify one point person and one alternate, if needed, who would be responsible for the area's account. Digital signage access is provided by submitting a ticket.
Buffalo State Branding: Adhere to the built-in style of your template and apply your message text. All submissions not embedded in a "pick and fill" template must follow university branding guidelines leveraging Buffalo State logos, colors, and fonts.
Copyright and Trademark: Postings cannot contain copyrighted or trademarked material. Original content (i.e. student or faculty work samples) remain the intellectual property of their originator.
Content: Must not violate state or federal law or any university policy; feature obscene, harassing, or discriminatory content; or contain any other inappropriate information. Content should be set to expire within a reasonable timeframe, should meet the strategic goals of the institution, be accurate, free of spelling and grammatical errors, and must be presented professionally. Content that does not meet these guidelines will be removed. Consistent content issues will jeopardize account access. Because we embrace a decentralized-centralized publishing model for management of digital signage, the campus community is invited to report content issues by submitting a ticket.
Specifications
• Each slide should display for no more than 30 seconds.
• It is recommended that slides do not use transitions. If they must be used, each slide should follow best practices and allow no more than 3 seconds for a transition.
• For landscape-oriented (16x9) displays, slide content should be landscape and meet the following dimensions: 3840 x 2160 pixels. 1920x1080 content is currently supported on older displays but will phase out as newer displays are installed. Content can scale down, but not up.
• For portrait-oriented (9x16) displays, slide content should be portrait and meet the following dimensions: 2160 x 3840 pixels. 1080x1920 content is currently supported on older displays but will phase out as newer displays are installed. Content can scale down, but not up.
Recommended Formats
Still images: .png
Video: .mp4
Supported Formats
Still images: .jpg
Slide shows: .ppt or .pptx
Video: .wmv (generally considered obsolete)
For the latest technical specifications on recommended formats, please see this article.
Death notices of retired faculty or staff members are included in the Daily Bulletin (In Memorium) when the Marketing and Communications Office is alerted in a timely* fashion that a retiree** has died.
* within three months of the death or memorial service
** official retirement, whether by choice or by reason of disability